Telehealth and telemedicine have become global mainstays in recent years. The benefits for many organizations are too numerous and the savings too large to ignore. The general public's attitudes have also shifted dramatically toward the positive, with almost 80% of Americans reporting that it's possible to achieve the same level of service delivery with telemedicine they get from in-person visits.
The growing prevalence and acceptance of this approach has given rise to the terms "telehealth" and "telemedicine" and has led to some confusion about them. This guide will tell you more about telehealth vs. telemedicine, clarify the difference, and explain some benefits of telemedicine.
Defining Telehealth Vs. Telemedicine
Some people may use the terms "telehealth" and "telemedicine" interchangeably, but they aren't synonymous. Telemedicine refers to clinical services, while telehealth encompasses both clinical and nonclinical services.
Both use technology to provide services remotely. Technologies used for both include videoconferencing, the internet, streaming media, and landline and wireless communications. Here's a definition of each:
Telehealth
Telehealth is a broad category that refers to electronic and telecommunication technologies and services used to provide care and services such as health education, public health, and health administration at a distance. It can encompass both clinical and nonclinical services, such as training, meetings, and continuing education.
Telemedicine
Telemedicine is a subset of services that fall under the broad spectrum of telehealth. It refers to a provider in one location using telecommunications infrastructure to deliver care to a patient at a different site. All telemedicine is telehealth, but not all telehealth is telemedicine. The World Health Organization (WHO) also uses the term "telematics" to refer to telemedicine.
The previous study found that nearly 90% of Americans polled voiced enthusiasm for telehealth services and indicated intent to continue using them. Their enthusiasm has grown as they've experienced some of the many benefits of telemedicine.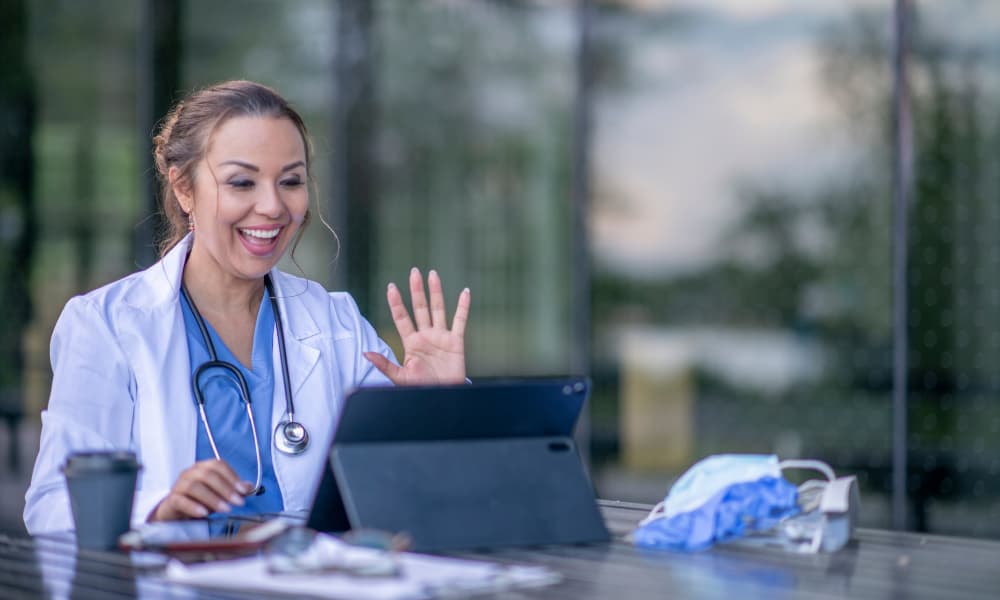 6 Benefits of Telemedicine
Telemedicine is advantageous for patients, providers, and healthcare facilities for myriad reasons. The Centers for Disease Control and Prevention (CDC) notes that telehealth approaches, including telemedicine, facilitate access to care, reduce the risk for disease transmission, and conserve medical supplies, among other pluses. Below are some reasons why it's so beneficial.
1. Telemedicine Saves Patients Money
One of the biggest benefits of telehealth is the patient savings it can deliver. Part of that comes from eliminating travel costs with telemedicine. This is especially true for those in rural areas or for patients who would have to travel long distances to see specialists. Patients aren't just saving money, they're also saving time. The Veterans Administration in Vermont found that telemedicine saved patients 142 minutes per visit. The old saying is "time is money," but it's still great when patients can save both.
2. Telemedicine Improves Access to Providers
Telemedicine has put patients in front of providers who wouldn't have been available otherwise. This is true for both rural and metropolitan populations. Over half of Americans said telehealth made it possible to see their physician more often, with 85% noting it made healthcare more accessible. Gastroenterologists, endocrinologists, neurologists, and pain management specialists reported the highest levels of telemedicine use in a study recently published by Health Affairs, suggesting there's a vast demand for telemedicine access to specialists.
3. Telemedicine Improves Patient Productivity
A sick employee is unquestionably a less productive employee. Workforce illnesses cost businesses over $150 billion in lost productivity per year. One of the most significant barriers patients have in seeking healthcare is taking time off work. Telemedicine means patients don't have to travel to appointments or miss a chunk of their workday to attend a doctor's appointment. They can schedule a visit during a break. Telehealth also addresses another common barrier – lack of child or elder care – since patients can access services from their homes.
4. Telemedicine Benefits Overall Economic Health
Telemedicine isn't just cost-efficient for patients. It also benefits the economic health of facilities and improves their return on investment (ROI). More than half of healthcare facilities that used telemedicine in 2017 reported it delivered a cost savings of over 10%. Out of those polled who tracked their ROI, 29% reported an annual savings of 20% or more from telehealth.
5. Telemedicine Is More Efficient for Providers and Patients Both
Both patients and providers can benefit from the improved efficiency offered by telemedicine. Wait times are usually decreased, and patients can wait in their own homes. Overall, visit times are shorter, allowing providers to see more patients. Providers can chart during the visit, which allows for a more accurate patient record.
6. Telemedicine Improves Patient Outcomes
Telemedicine lowers readmission ratesfor patients who have been hospitalized, enabling the more efficient use and management of healthcare resources. This is especially vital during emergencies like disasters or viral outbreaks, when patients may delay care out of fear of exposure and when hospital resources are heavily burdened.
Telemedicine allows for the better management of chronic conditions by improving both medication compliance via medication reconciliation, identifying changes in chronic conditions before they become serious, and improving the health literacy of patients by giving them opportunities for education from their provider.
It's no wonder that both patients and providers gravitate toward telemedicine, considering all of these benefits. Many healthcare services can be virtualized, including well visits, sick visits, behavioral health management, the monitoring of home medical devices, pre- and post-operative assessments, and the management of chronic conditions. Telemedicine is an ever-evolving healthcare approach, and its future is glowing.
Contact the Beam Team Today to Talk Telemedicine
Those looking to benefit from a fast-rising field like telemedicine need an experienced provider with a proven array of services. Beam Healthcare has focused on delivering individualized clinical telemedicine solutions to healthcare communities that need them since 2014.
Our areas of telemedicine expertise include cardiology, infectious disease, pulmonary, respiratory therapy, and endocrinology, with tele-hospitalists available during daytime and nighttime. Contact Beam Healthcare today to discuss telehealth vs. telemedicine and the needs of your facility.